Make this NOW. I'm usually not very demanding, but oh my goodness this is GOOD. We love crescent roll recipes. There is just so much you can do with them. To think that for the longest time we just baked them up and spread some butter on them. While they are very good that way, it doesn't take much time or imagination to dress up a crescent. In the past we have made Pepperoni Pizza Crescents and Crescent Rolls with Chocolate Chips and Peanut Butter and they were a huge hit. I was in the mood for something sweet and thought we would try making Apple Crescents. Think of them as an easy apple pie. I love apple pie and crescents so how could this be wrong? Check out how easy they are to make - even with kids!
Apple Crescents
You will need:
Tube of crescent rolls
Apple pie filling
Caramel sauce
That's it! A 3 ingredient dessert that I made in the toaster oven.That's my kind of cooking. They are really simple to make too. I gave my daughter a spoon with an apple from the can of apple pie filling. Then she placed it on the open crescent. Try and have your child aim for the middle part of the crescent.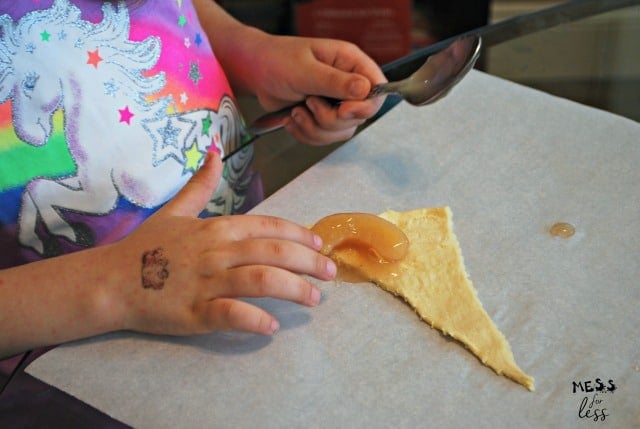 Then she rolled up the crescent from the widest part of the triangle to the most narrow.
When the crescents are rolled up, pinch the edges so the juice from the apple pie filling doesn't come out. That part can be tricky for a kid to do.
Now they are ready to go in the oven or toaster oven for 12 minutes at 375 degrees. If the tops start to get too dark, cover with foil.
When they came out of the oven we poured some caramel syrup on top. Do not skip the caramel syrup. It took the lowly crescent to a whole new level.
These apple crescents took around 15 minutes from start to finish and could not have been easier - or tastier. Talk about easy apple pie! They are best right out of the oven and I am thinking some whipped cream would be great on top. Or maybe some ice cream...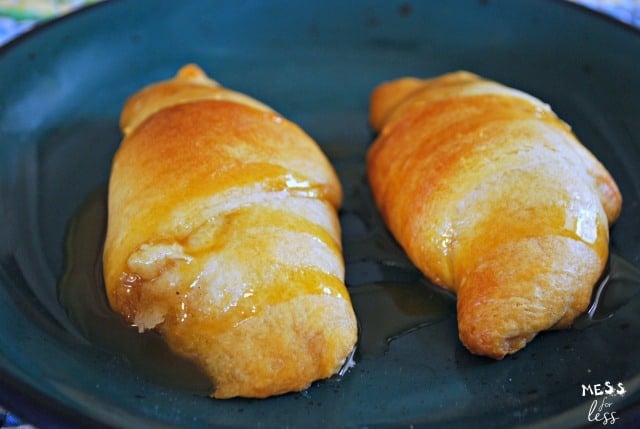 Food Fun Friday - Apple Crescents
They apple crescents are so easy to make. Just 3 ingredients and and you are on your way to a yummy treat!
Print
Pin
Rate
Instructions
Preheat toaster oven or conventional oven to 375 degrees.

Unroll and separate crescents into 8 triangles.

Place one apple from the can of apple pie filling into the center of the crescent triangle.

Roll from large end of the crescent to the point of the triangle.

Pinch edges of crescent together.

Bake for 12 minutes at 375 degrees.

Remove from oven and top each crescent with 1 teaspoon of caramel syrup.
Nutrition
Calories:
192
kcal
|
Carbohydrates:
35
g
|
Protein:
1
g
|
Fat:
6
g
|
Saturated Fat:
2
g
|
Sodium:
282
mg
|
Potassium:
40
mg
|
Sugar:
13
g
|
Vitamin A:
25
IU
|
Vitamin C:
1.2
mg
|
Calcium:
7
mg
|
Iron:
0.6
mg
DO YOUR KIDS LOVE COOKING
I have long been a proponent of cooking with kids. There are so many things kids learn helping out in the kitchen. Math, reading, chemistry and cooperation and more are used while following a recipe.
​Raddish is a monthly subscription box for kids that is a cooking club, culinary lesson, and mealtime solution all-in-one. Young children get to work with an adult, while older kids and teens independently indulge their culinary curiosity! And it's perfect for picky eaters — kids who cook, eat!
​A new kit is delivered to your doorstep every month​!
Each kit features a new culinary theme! You'll also get a shopping list emailed to you prior to delivery so you will be ready to cook. These kits are a great way for kids to develop new cooking skills and confidence in the kitchen while the entire family builds memories together. Find out more here.
If you enjoyed these apple crescents, check out:
Peanut Butter and Jelly Crescents