I have been baking with my kids since they were toddlers. If you are new to baking with kids, cookies are a great way to start. They often bake up quickly, which is great when you are a kid who lacks patience. Your child can help with making cookies when they are as young as two. Each of the Easy Cookie Recipes for Kids below have been made with kids. Baking is a great way for kids to learn and a wonderful opportunity for bonding.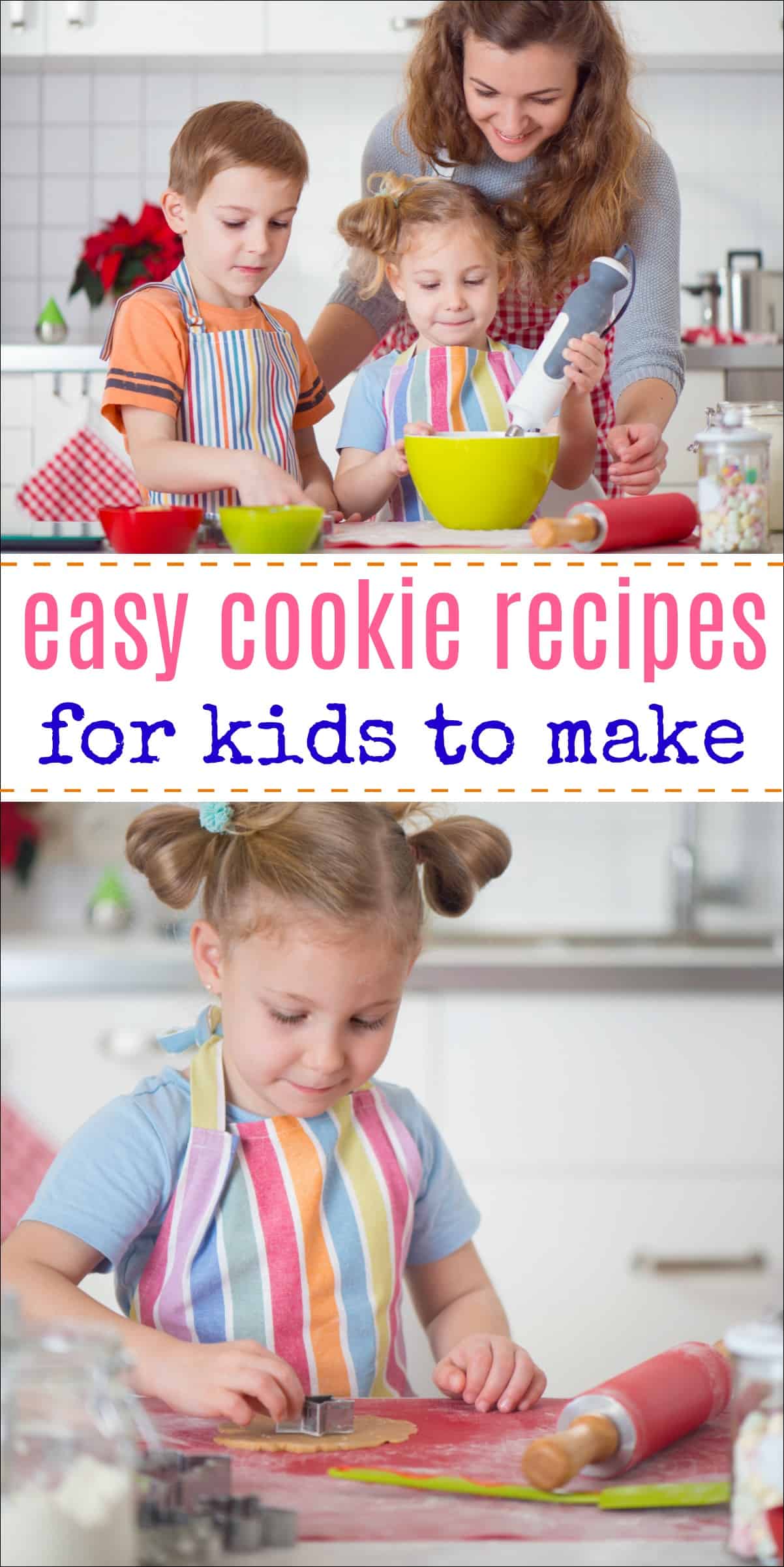 Easy Cookie Recipes for Kids
Chocolate Chip Cookies for Kids
Easy Chocolate Chip Cookies from Mess for Less – These easy chocolate chip cookies are the best we have ever made! Soft, chewy and full of chips! A must try cookie recipe.
White Chocolate Chip Cookies from Mess for Less – This kid friendly recipe puts a new spin on the traditional chocolate chip cookie. Soft and chewy goodness!
Chocolate Chip Pudding Cookie Recipe from Pint Sized Treasures – These are quick, easy and oh-so-tasty!
Gluten Free Chocolate Chip Cookies from Mess for Less – A great gluten free option that is every bit as good as a regular chocolate chip cookie.
Sugar Cookie Recipes for Kids
Number Cookies
from Learning 4 Kids – These would be so fun to make with kids who are learning their numbers.
Moose Track Cookies
from Fantastic Fun and Learning – These cookies are eye catching and use pre-made dough to save time.
Fun Cookies for Kids to Make
Hamburger Cookies from Come Together Kids – You'll love these no bake cookies. Super easy for kids to assemble.
Unicorn Poop Cookies from Kids Activities Blog – If your kid is about everything unicorn, they will flip for these colorful cookies.
Sprinkle Cookie Freezer Bites from B-Inspired Mama – Another no bake cookie that comes together quickly. Perfect for little ones that just can't wait.
Kids Cookies with Fruit and Veggies
Pumpkin Spice Cranberry Cookies from Bare Feet On the Dashboard – You'll find all the tastes of fall in these yummy kid made cookies.
Lemon Cookie Recipe from Mess for Less – Kids will love the lemon flavor in these. Mine enjoy them with a cold glass of lemonade.
Carrot Cake Cookie Recipe from Mess for Less – All the goodness of carrot cake in cookie form!
Simple 3 Ingredient Cookies from Lemon Lime Adventures -If you don't have a lot of time, but are having a cookie craving, make these simple 3 ingredient cookies.
Apple Cookies Recipe from Mess for Less – My kids love to pick apples for our tree to use in these cookies. A bit of apple in every bite!
More Kids Cookie Recipes
Cream Cheese Cookie Recipe from Mess for Less – If your kids love soft and chewy cookies, you must try this recipe. Cream cheese makes these soft even days after being baked.
Molasses Crinkle Cookies from Nothing if Not Intentional – I love that these have a gingerbread flavor in a thicker crinkle style cookie.
Snicker Doodles Recipe from Dear Creatives – Snicker doodle cookies are always a favorite with kids. The combination of sugar and cinnamon just works!
Shortbread Cookies from True Aim – Get kids started with baking with this traditional short bread recipe.
Eat At Home Meal Plans
Have you heard about Eat At Home Meal Plans? If the cost of eating out or the decision of what to make for dinner each night is stressing you out, then you must try these. When you sign up, you get access to four separate meal plans each month (Traditional, Wholesome Traditional, Slow Cooker, and No Flour/No Sugar). All you do is print the plans, color-coded grocery lists, and recipes you want for that month. Don't worry, there are lots of options, so even picky eaters will find something they like.
Then when it is time for dinner, make that night's recipe (choices include make-ahead, freezer meals, slow-cooker recipes, and other time-saving strategies).
That's it! Dinner is on the table and you can enjoy a home cooked meal with the family – without the stress!
We all have more important things to do than meal planning. Let someone else do it for you with Eat At Home Meal Plans. Monthly, quarterly and annual plans are available.
If you liked these kids cookie recipes check out: