Starting this month, I will be participating in the Kids' Kitchen Monthly Blog Hop. Once a month, I will be joining some of my favorite kid bloggers in sharing recipes that are perfect for making with your kids. This month, we are making a kids favorite recipe that is sure to be a hit with your little ones. After you try out this Easy Zucchini Muffins Recipe, check out the links at the bottom of the post for more kids favorite recipes. You will also love this Zucchini Pumpkin Bread and our Zucchini Pecan Bread.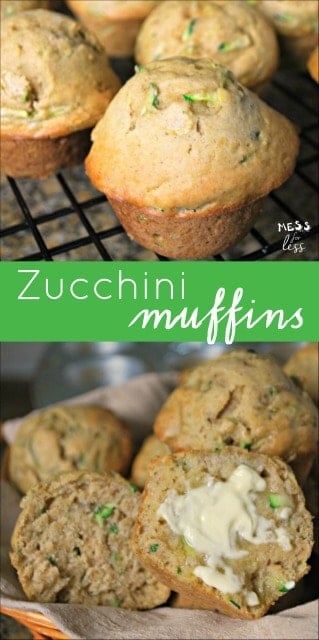 Easy Zucchini Muffins
This recipe uses one large zucchini which you will need to shred. Shredding zucchini is easy with this grater. This is a job for adult, but don't worry, there is plenty more for kids to do in this recipe.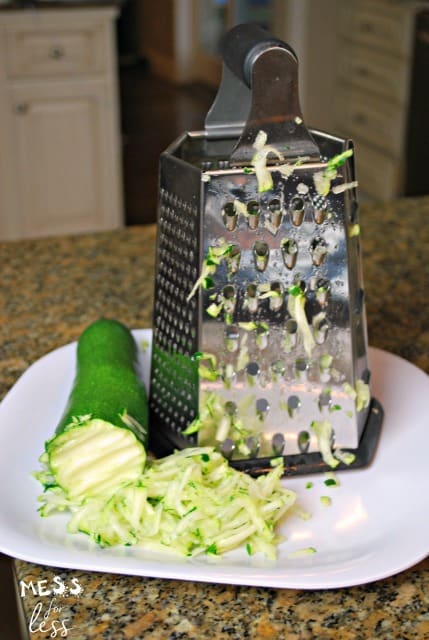 Before you begin to mix the ingredients, preheat the oven to 350 degrees. Then gather your helpers and get started making your zucchini muffins.
Combine flour, baking soda, and cinnamon in a large bowl. My daughter loves helping with this process. Cooking with kids opens up lots of learning opportunities. As my daughter poured in the flour, I would ask questions like "we need to put in three cups of flour and we put in one. How many more cups of flour do we need to add?" This got her thinking as she helped out.
Mixing is her favorite thing to do. That's the thing about cooking with kids - things that might not seem that interesting to an adult are very fun for them.
We combined the eggs, oil, applesauce, vanilla, white and brown sugars in another large bowl. While we did, we talked about how the eggs changed when they were beat and mixed with other ingredients. My daughter was very observant throughout the cooking process and noticed all of the changes that occurred while we were cooking.
We then mixed the dry ingredients with the wet ingredients to make a batter. My daughter added the shredded zucchini into the batter and mixed it until it was evenly distributed. This job required a bit of elbow grease on her part, but she was determined.
Grease a muffin tin with cooking spray before adding the batter. Spoon batter into the muffin tin, filling each cup to the top. My daughter insisted on helping with this step. This takes much longer when you have a child do it, but she was insistent on doing the whole thing herself. When cooking with kids, sometimes you just have to go with flow and appreciate the help.
Bake these zucchini muffins for 25 minutes. Just look at how they rise!
The trickiest part of cooking with kids is the wait. My daughter kept asking how much longer until the muffins were done. Then when they finally came out of the oven, she had to wait for them to cool a bit on the cooling rack. Oh, the torture.
We love to serve these with some butter because butter makes everything better. When you slice these muffins in half you can see all the zucchini goodness.
My kids don't like vegetables. At all. It is a struggle to get them to eat vegetables. But when I can disguise them a bit like we did in this Hidden Veggie Mac and Cheese, they will eat them with relish. My three girls love these easy zucchini muffins and they don't even complain about the specks of zucchini in the muffin. While they are not eating a plate of vegetables just yet, this is step in the right direction!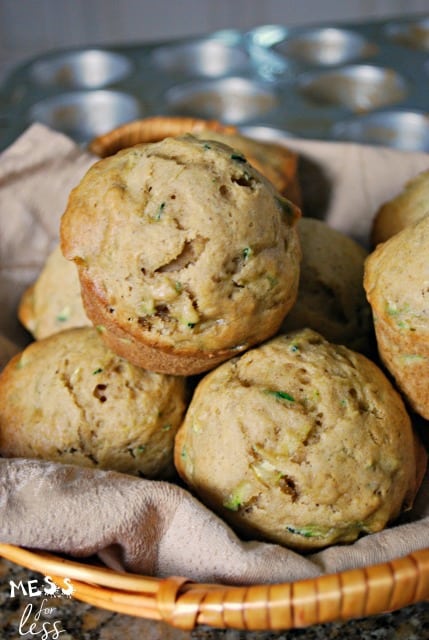 📖 Recipe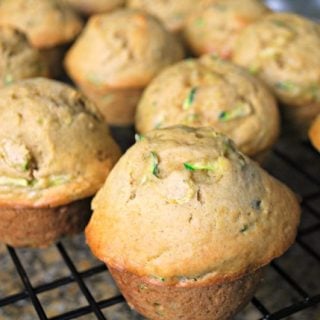 Easy Zucchini Muffin Recipe
These easy zucchini muffins are my kids favorites! They help to make them and don't even know they are good for them!
Print
Pin
Rate
Instructions
Preheat oven to 350 degrees.

Combine flour, baking soda, and cinnamon in a large bowl.

In another large bowl, beat together eggs, oil, applesauce, vanilla and white and brown sugars.

Pour dry ingredients into the bowl with the wet ingredients. Mix until a batter forms.

Fold shredded zucchini into the batter until it is evenly distributed.

Grease a muffin tin with cooking spray. Pour batter into muffins tins, filling each one to the top.

Bake for 25 minutes at 350 degrees or until toothpick inserted in center comes out clean.
Video
" player-type="default" override-embed="default"]
Nutrition
Calories:
276
kcal
|
Carbohydrates:
44
g
|
Protein:
4
g
|
Fat:
9
g
|
Cholesterol:
35
mg
|
Sodium:
96
mg
|
Potassium:
116
mg
|
Fiber:
1
g
|
Sugar:
23
g
|
Vitamin A:
95
IU
|
Vitamin C:
4
mg
|
Calcium:
22
mg
|
Iron:
1.6
mg
Now that you've tried our easy zucchini muffins, check out these kids favorite recipes:
Quick and Delicious Flourless Peanut Butter Chocolate Chip Muffins from Living Montessori Now
Homemade Taco Seasoning | Royal Little Lambs
Mud Pudding | Raising Little Superheroes
Marble Pound Cake | Kitchen Counter Chronicles
Simple Cupcakes for kids to decorate | Rainy Day Mum
Baked Mini Cinnamon Donut Holes | Kidgredients
Chocolate Butterscotch Rice Krispie Treats | Royal Baloo
Cooking with Kids: Easy and Yummy Pancakes | LadydeeLG